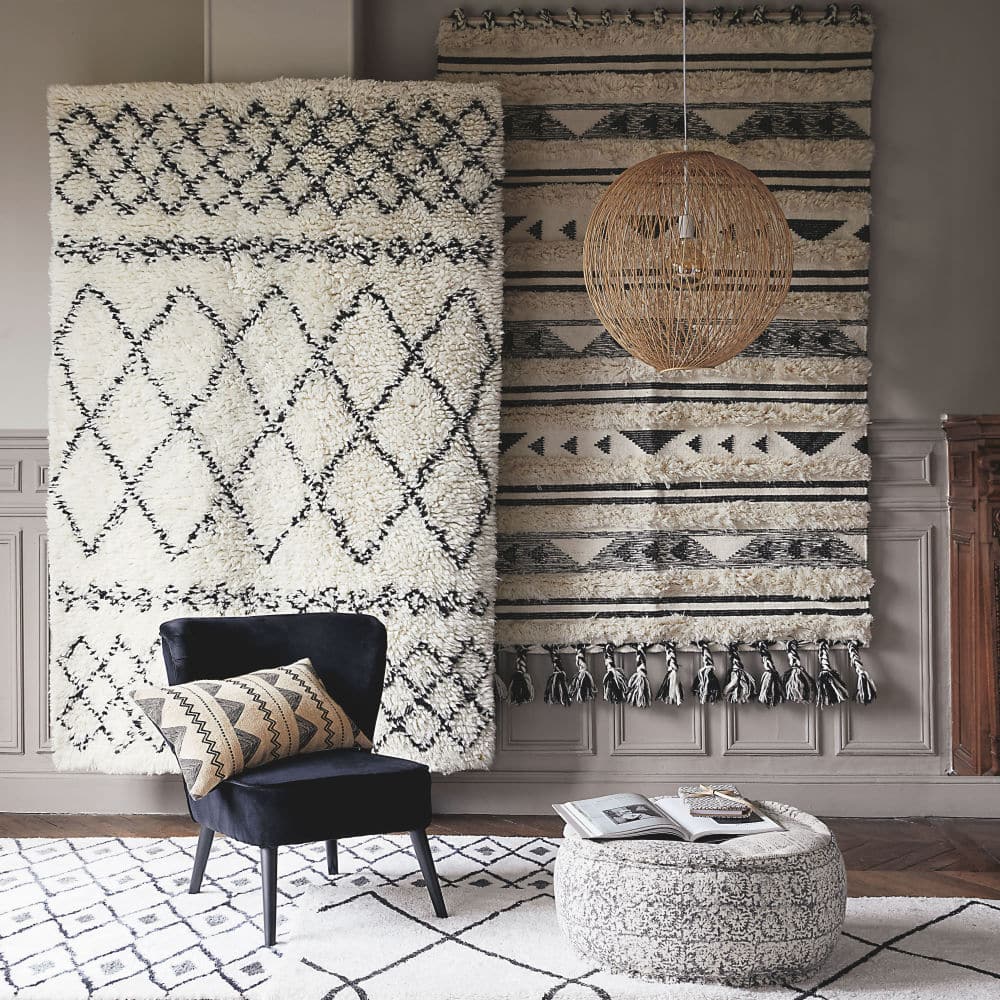 It's been a while since the Berber rug trend has invaded online shops and home decor shops. I myself have been a Berber carpet lover for a long time, as far back as when I lived in Morocco a few years ago.
The 2 most common types of traditional Berber wool carpets are the Beni Ouarains (black geometric patterns on a white background with a fairly thick wool) and the Azilal (more colourful with a shorter wool). The patterns and motifs all have a symbolic origin in relation to the religion, beliefs and imagination of the Berber culture, which have been passed down through generations from mother to daughter
When I lived in Morocco, I bought all my decorations and furniture in the medinas and souks, from craftsmen or dealers. But I never had the strength to spend half a day or more in the souk to buy an authentic Berber carpet. I didn't have the budget either… I have no idea how much a real Berber carpet sold in Morocco costs, it depends on the size, the quality of the wool and the patterns. I think you should expect to pay between 700€ and 1000€ for an average carpet, and you'll also have to pay for air transport.
Some of you must know if you have ever been on holiday in Morocco, that to buy something you are interested in, it takes time, a lot of time. It's the negotiation that goes on over a glass of tea, you'll be tired by the end!
I once bought two woollen blankets and a teapot at the souk in Marrakech and that was enough for me! I can't imagine the headache I would have had buying a wool Berber carpet in Marrakech. And between us, I would rather buy it directly from a women's cooperative, in a village in the Atlas

In short, all this to tell you that if you don't have the energy, nor the budget to go and buy a Berber carpet in a Moroccan souk, during your holidays in Morocco; you can take advantage of the sales to buy a cheap Berber style carpet, on one of the many online shops that offer them.
The big decoration brands offer Berber-inspired rugs, in wool and/or cotton or in polypropylene, which is practical if you are allergic to wool…

I have two wool Berber style rugs at home and they are still coming out, even after several months! Not practical if you want to keep your home clean, I have to vacuum more often…
Where to buy a wool and/or cotton Berber carpet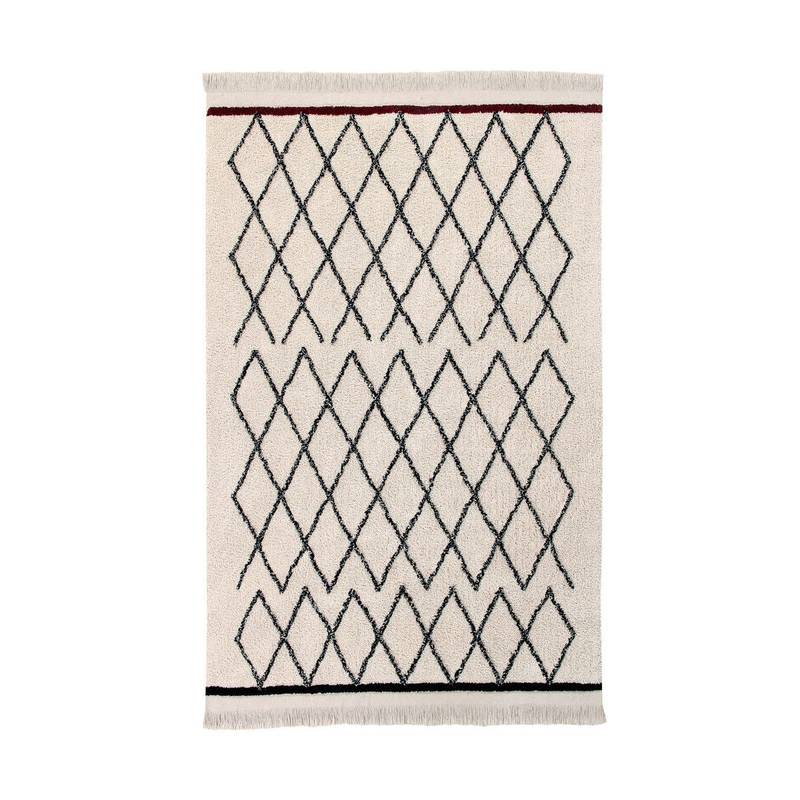 Washable Berber carpet Bereber 154€ – Berber carpet Isma From 299€ – Berber carpet Fez 299€ – Berber carpet Ourika From 199,99€ – Berber carpet Adza From 199,99€ – Berber carpet Nyborg From 249€ – Berber carpet blue cotton From 59€ – Berber carpet shaggy cotton 249
Where to buy a polypropylene berber carpet
Before you buy your rug, make sure that the polypropylene is tested according to the Oeko-Tex standard 100, because
the Oeko-tex® label guarantees that the tested and certified products do not contain substances that could be harmful to health
.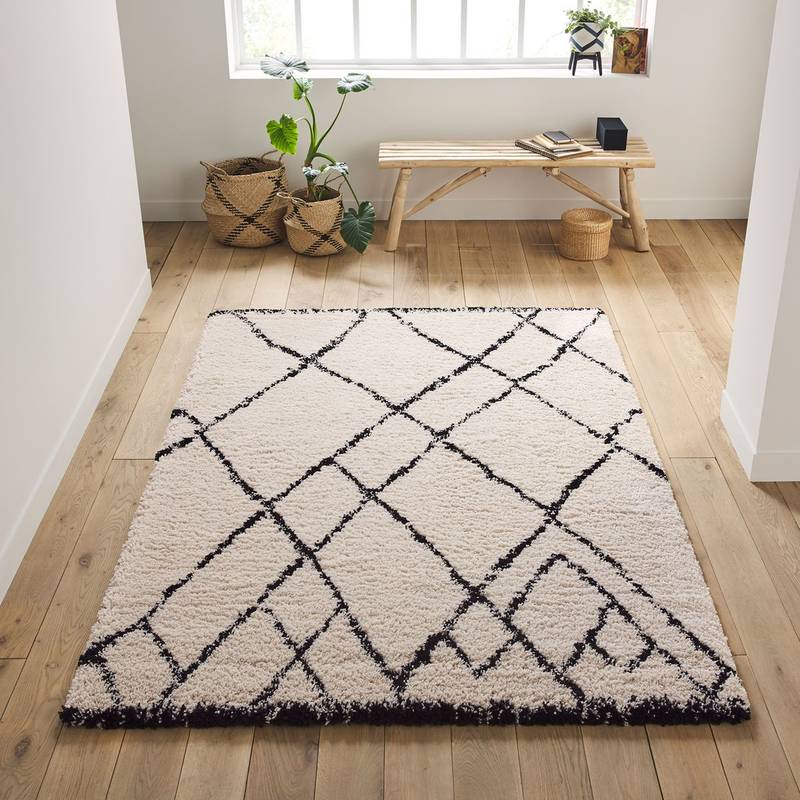 Berber carpet Rabisco From 99,99€ – Berber carpet Stockholm – 114,90€ – Berber carpet Afaw From 99,99€ – Berber carpet Freda 249€ – Berber carpet Drax 199€
Before choosing a Berber carpet, you should know that it is more difficult to clean a wool carpet than a polypropylene carpet. It's up to you to decide where in the house it should be placed. For a child's room, it is wiser to use a washable cotton carpet. The Spanish brand Lorena Canals offers washable cotton rugs, I bought one for Noah's room last year.
You should also be aware that a wool rug will fluff up for a while, so if you're a bit of a stickler, or allergic, maybe it's better to choose a synthetic rug.

That's it for my selection of Berber rugs, you just have to compare prices, and choose the size and material that suits you.
Photo credits: Maisons du Monde / La Redoute / Made