As a child, I loved to play with the dinette and the haggle, I didn't have a small kitchen but a vintage Smoby plastic haggle from the 80's.
I really like wooden toys and wooden kitchens

For Noah's first birthday, I made a wooden kitchen. Because I like to make, to divert and to recycle, I customised a vintage bedside table into a small child's kitchen.
If you have the time and inclination, you can do the same. You can use an Ikea kitchen that you can customize with stickers, paint, a curtain,…

The taste of cooking is transmitted by cooking with the children but also by playing. Noah loves to eat and cook with me, he has had his own little cooker since he was one year old, to play and imitate his parents. He prepares snacks and soups for me. :)
Concerning wooden kitchens for children, there are more or less big ones, more or less complete (fridge, microwave, oven, sink, dishwasher,…), and at different prices. Different colours are available for girls or boys: white, pink, pastel, grey, red,… with a modern or vintage style!
---
Wooden kitchen for kids Janod
The French specialist in wooden toys, Janod offers wooden kitchens for boys and girls.
From €70 – Find out more

See on Amazon
Voir sur Amazon
Just like mum and dad, prepare delicious meals for your friends and become a real Little Chef.
Equipped with a clock with functional hands, a hook to hang the spoons, a metal sink, a slate, an induction plate with sound and LED (just press the red buttons once and the plates will light up and then a second time to hear the sound of water boiling. The sound and the induction plates will automatically turn off after 30 seconds or when you press the red buttons a third time).

Like a real kitchen, it is equipped with three rotary knobs (two of which have sound effects), an oven, a microwave and a cupboard with magnetic doors. 7 accessories included 1 metal frying pan, 1 metal colander, 1 metal spoon, 1 potholder and 3 cardboard food tins.
Worktop height 50 cm
Standard paint with heat transfer printing
Plywood
Delivered unassembled
The Janod brand also offers accessories and vegetables to make your kitchen really complete. Your child can also use these baskets of fruit and vegetables to play shop or to cook like a grown-up
---
Little Dutch wooden kid's kitchen
99,95€ – Read more
Little Dutch offers models in pastel colours that can be perfectly integrated into the decoration of your home.
Composed of an oven, cooking plates, a sink and some storage space, the Little Dutch Wooden Kitchen
is fully equipped and ready to use. Thanks to the available utensils (frying pans, gloves, salt and pepper shakers) and accessories such as the clock, your child will be able to get behind the stove immediately.
The practical knobs click when you turn them to let you know whether the food has started cooking or not.
The kitchen is supplied with four extension pieces to be placed under the legs of the kitchen, so it can be used for many years (82-86 cm high). Your purchase will therefore be usable over time by the whole family. Don't hesitate to consult the detailed reviews to get an idea before making your purchase.
---
Wooden cooker Flexa
175€ – Read more
This pretty wooden cooker is full of little details that make all the difference and won it the Reddot award 2018.
Ideal for budding cooks who want to do as the big boys do. We love the slightly rounded edges that make the kitchen safer

Wooden cooker Cam Cam Copenhagen
Blue kitchen 215€ / White kitchen 267
Thanks to this cooker, you can be sure that your child will have hours of fun… Indeed, what a pleasure to be able to turn the knobs, open the oven door, put the accessories on the shelves, put everything in the sink etc, etc…
Like a grown-up, he will be able to invent lots of stories about cooking, but also about being a merchant
.

Camcam has created this quality product with a charming and timeless design, and with nice details such as wooden buttons and a fabric curtain.
How can you resist such a beautiful cooker?



---
Wooden children's kitchen vertbaudet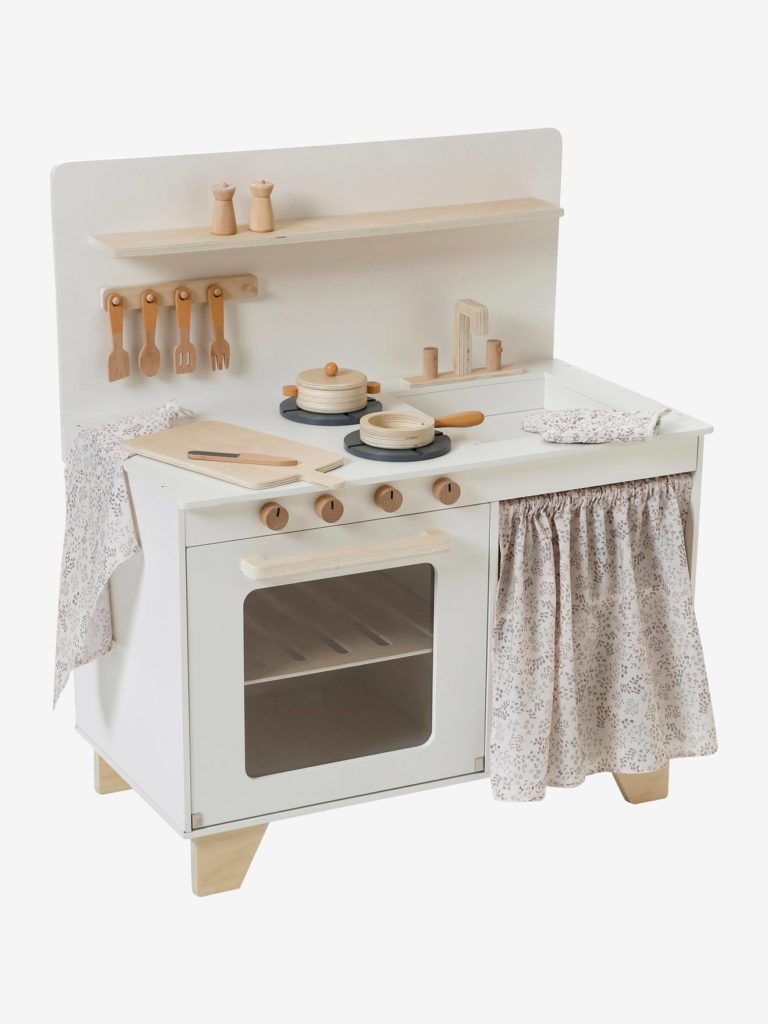 Kitchenette with curtain
Club price 124
The kitchenette, the leading toy in imitation, is constantly being reinvented. Here it is in a version with a curtain that makes us completely fall in love with it! Equipped with a shelf, an oven, a sink or even shelves hidden behind a pretty curtain, it is perfect for children to develop their creativity by concocting delicious meals!
5 pegs, 2 shelves hidden behind a curtain
Oven with grill and handle. Magnetic door closure.
2 cooking plates with click-click buttons
1 sink with rotating tap and hot/cold buttons
1 cutting board, 1 sponge, 1 potholder, 1 tea towel, 1 large spoon, 1 large fork and 2 spatulas

Dimensions: 78 x 75 x 40 cm
vertbaudet proposes a new design kitchen mint green
From 79,99€ (Club price 67,99€) – More info

Children will think they are real chefs at the controls of this pretty, highly decorative kitchenette! The oven, sink, hob and many wooden accessories will allow them to prepare delicious meals and develop their overflowing imagination!
The oven knobs make a "clack" sound each time they are turned. The salt and pepper imitate the sound of real salt/pepper mills.
Dimensions: 59 x 29 x 74 cm
Height of work surface: 50 cm Includes
: 1 oven, 1 cupboard, 1 shelf, 1 sink, 1 cooking plate, 1 knife rack and 1 small credenzaAccessories
included: 1




---
Howa wooden children's kitchen
Howa, a German brand, also sells quality wooden kitchens.
From €80 – Find out more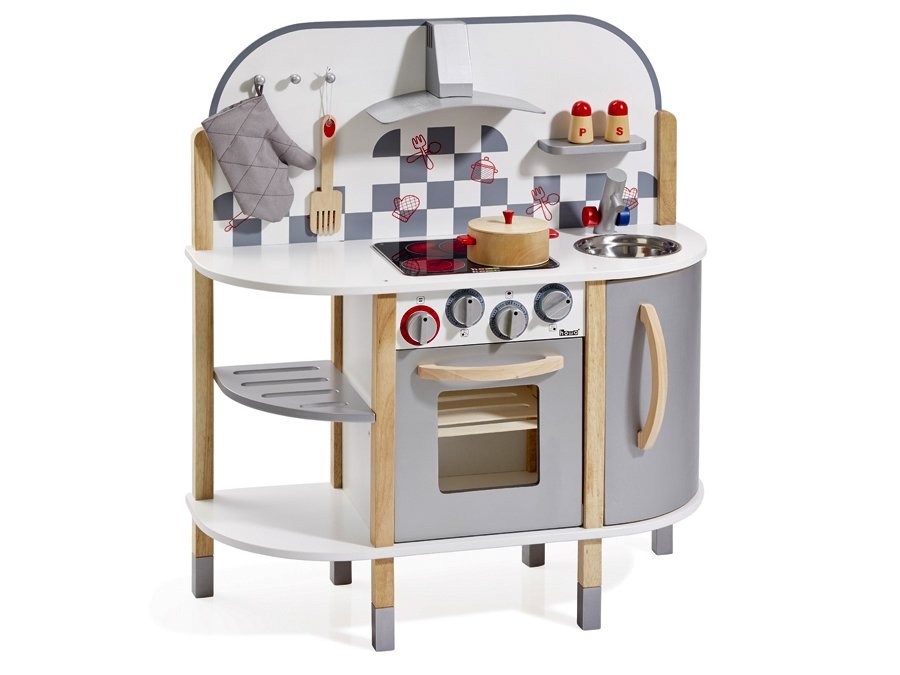 The new children's kitchen from howa is multifunctional and cleverly designed!
Clever: The ceramic electric hob can be switched on just like a real kitchen! The push buttons can be used to switch each cooking zone on and off separately. This way, children can learn to use the cooker while playing. The oven with extendable baking tray and click-and-turn knobs is great for baking cakes or pizzas.
The large refrigerator is perfect for storing all your groceries. Other refinements: microwave with turntable, extractor hood, educational clock, kitchen roll holder and utensil hooks. The tap with telescopic shower even makes washing up easier.
In short: the chef's kitchen is a MUST for our little budding cooks!
Working height: 52 cmAvailable
in white/pink or white/green. Supplied without accessories.
Height:





Please note that delivery is free on Amazon on some models. Howa is a German brand and I recommend you to check the delivery time, the stock and the availability before making your purchase.
This wooden kitchen, partially painted "stainless steel" white and coloured has a cooking plate. With ceramic, sink, hood, oven, cabinet, make "click" buttons and a shelf. It comes with 5 accessories. The height of the worktop is 50 cm. W-73 cm, H-82 cm, D-30 cm
---
Wooden kitchen Vilac
Vilac, a French manufacturer of wooden toys, offers some very nice
wooden kitchens, including a cloud kitchen ;)
From 100€ – Find outmore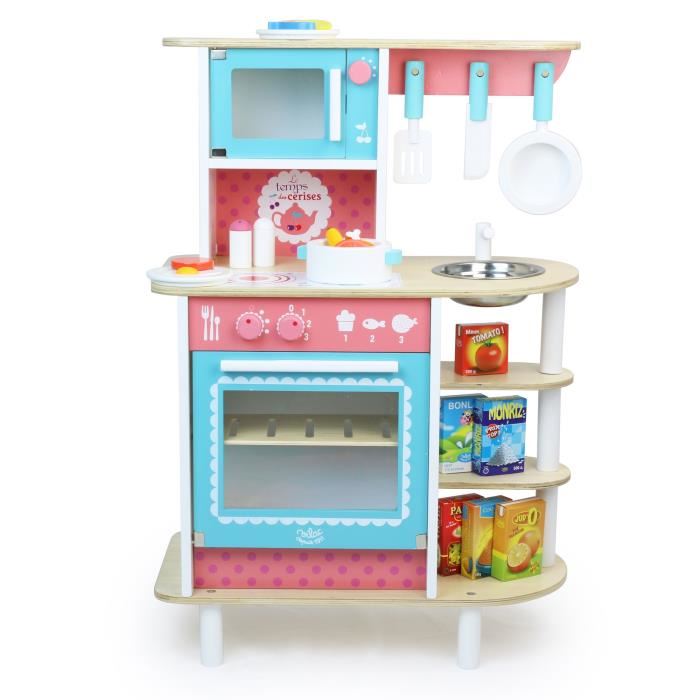 ---
Hape wooden children's kitchen
Hape, a German brand, is the
world'
s leading producer
of wooden toys.
From 80€ – Read more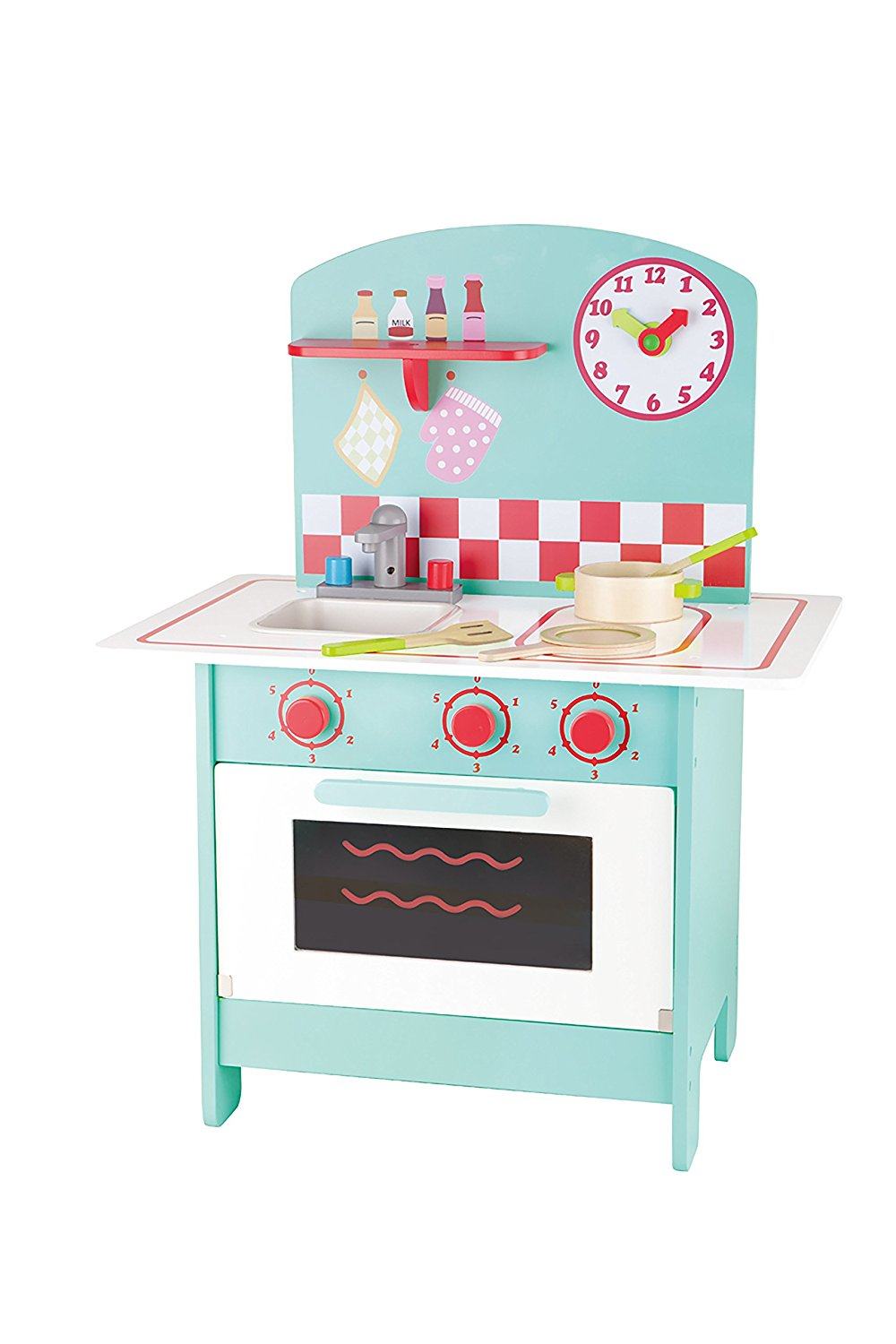 Hape is known for designing quality toys. The majority of their products are made of wood (not plastic). Reviews confirm that the pieces are of good quality and durable.
Multifunctional kitchen!
All good workers have the right tools.
The chef is sure to succeed with his recipe. I promise!

Storage cupboard
A large storage cupboard, so that you have all the ingredients you need for good cakes
Hot oven
What a great smell!
Be careful not to let the bread bake too long!

Hotplate and super hood
The super hood allows us to cook any dish.
Small sink
After eating well, it's time to wash the dishes. We clean and tidy up.
Multifunctional kitchen with hood and storage
Dimensions : L 75.7 x W 39 x H 93.5 cm.
Minimum age: 3 years.
Materials: Wood, metal, click buttons and water-based colours.
Educational value: Discovering the kitchen through imitation play.
---
Children's wooden kitchen Djeco
Cocorico, another French brand of wooden games that also offers wooden kitchens for children.
From 60€ – Find out more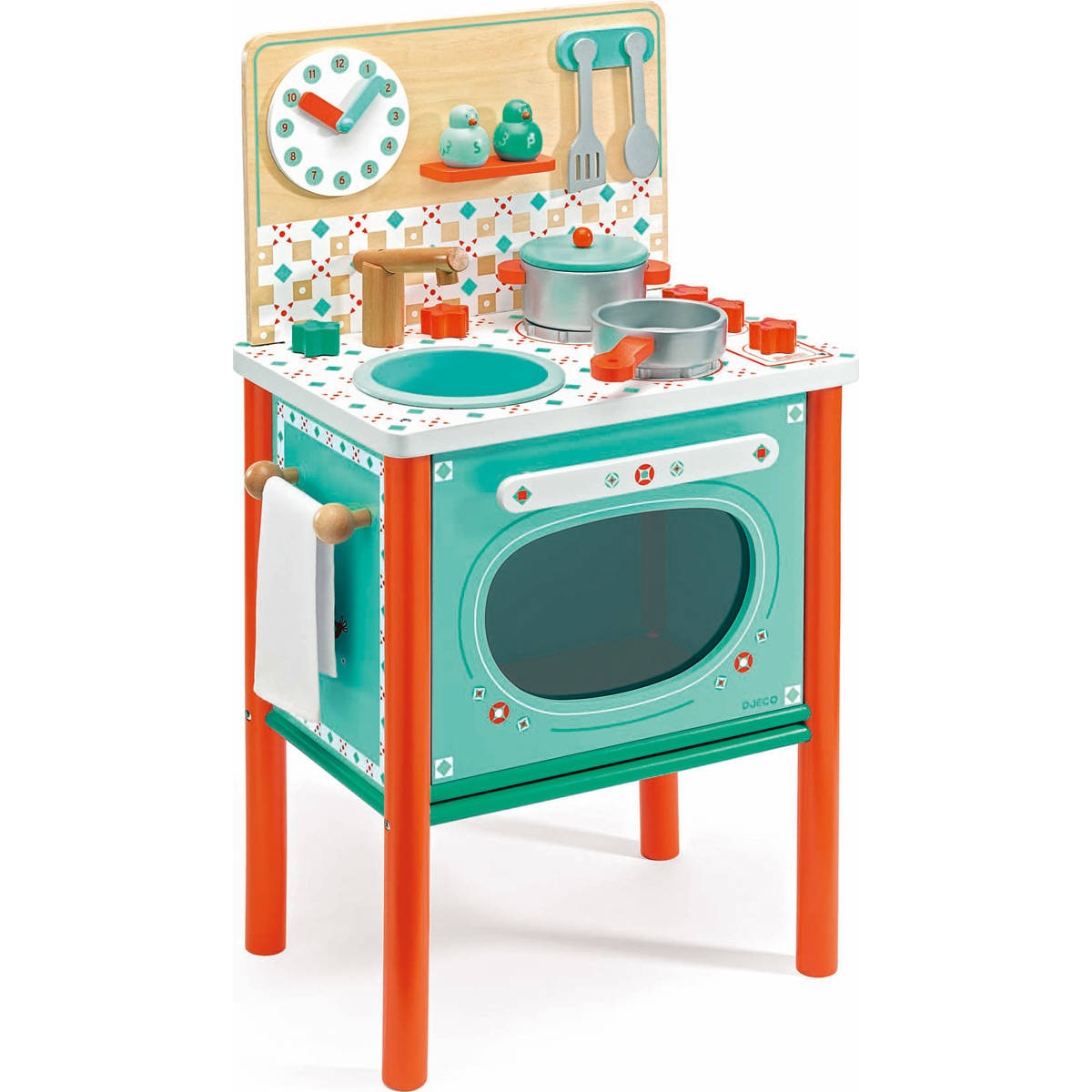 Lili Rose Djeco's wooden cooker
Let's get cooking! This pink and aniseed green cooker will delight little girls! All made of wood and fully equipped: an oven that opens on the front, baking trays with knobs, a frying pan, a saucepan with lid, spatulas, a tea towel and a salt and pepper shaker! There is even a decorative clock to check the cooking time! A complete imitation toy from 4 years old that helps children understand how the world around them works and the social roles. An ideal gift for apprentice chefs!
Dimensions
: 30 x 35 x 15 cm. Made of wood. From 4 years old.
---
Childrens wooden kitchen Kidkraft
Kidkraft is an American brand that exists since 1968. They propose very big models of kitchens and fridges, of course everything is XXL in the USA…
From 70€ – Find out more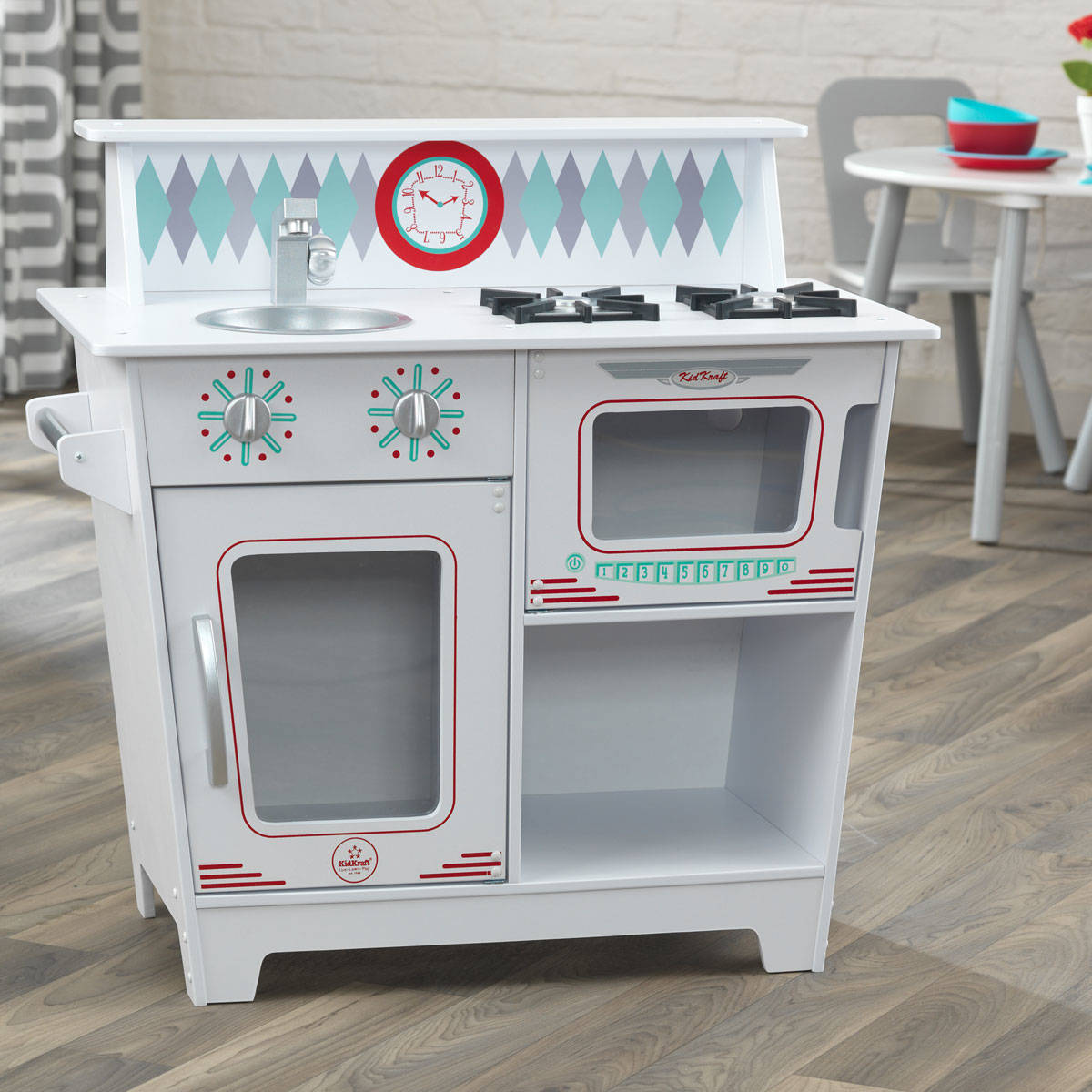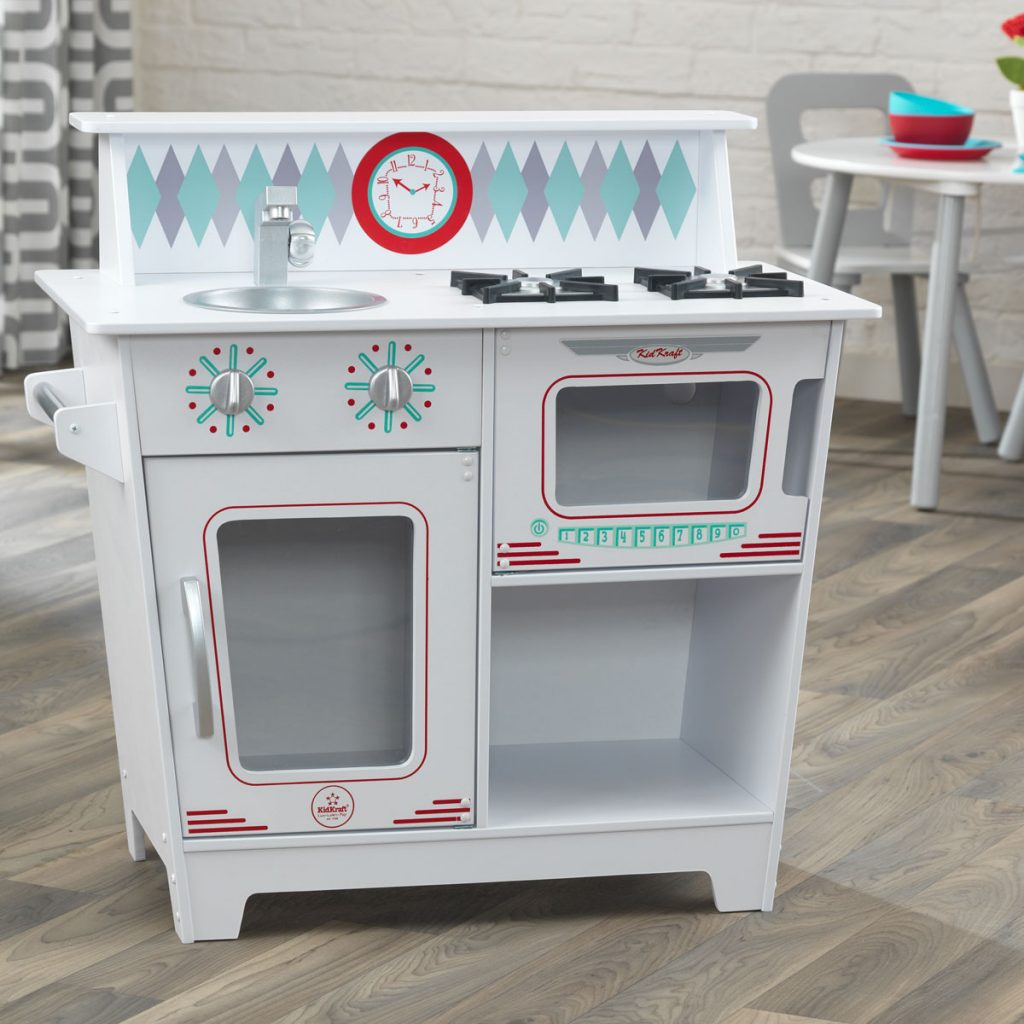 Help your kids explore their creativity with our Grand Gourmet Corner Kitchen!
Give your children the opportunity to express their imagination! Each of our kitchens is designed to offer moments of play, alone or with others, in complete autonomy.
This play kitchen is equipped with an oven, a microwave, a refrigerator and many realistic elements. All doors open and close, the oven, microwave and washing machine have transparent windows, and the knobs on the cooker and tap can be turned.
Some reasons why you will love this product:
Colourful and realistic decorations of the microwave, hotplate, etc
Comes with detailed assembly instructions for easy assembly.
The kitchen measures 91.44 cm x 90.81 cm x 91.76 cm, with an angled layout.
The perfect gift
90-day manufacturer's warranty
Allow your children to develop their imagination by role-playing, and thus become real little chefs with this adorable wooden kitchen. Add the Grand Gourmet Corner Kitchen to your basket now!
The Gourmet Chef Wooden Kitchen with EZ Kraft Assembly™ from KidKraft is the ultimate kids' kitchen.
This kid-sized kitchen features an oven, microwave, cooktop, refrigerator and sink with fun, realistic details: doors to open and close, transparent doors, knobs to turn on the oven and a faucet to turn on the sink. Independent imitation game to practice putting dishes in the oven, washing dishes and serving a meal to "guests".
Here are some other benefits you and your kids will love:
3-piece accessory kit includes spoon, spatula and potholder hanging from pegs above the
stovetopFridge includes ice maker and separate freezerDelivered
with detailed, simple, step-by-step assembly instructions for easy assembly


The kitchen dies 100.84 cm x 32.77 cm x 104.9 cm

Your child will be practising their moves as they play at imitating adults, using their imagination to "create" good food with this adorable wooden kitchen. Add the KidKraft Gourmet Chef with EZ Kraft Assembly™ to your shopping cart today!
---
New Classic Toys Wooden Toy Kitchen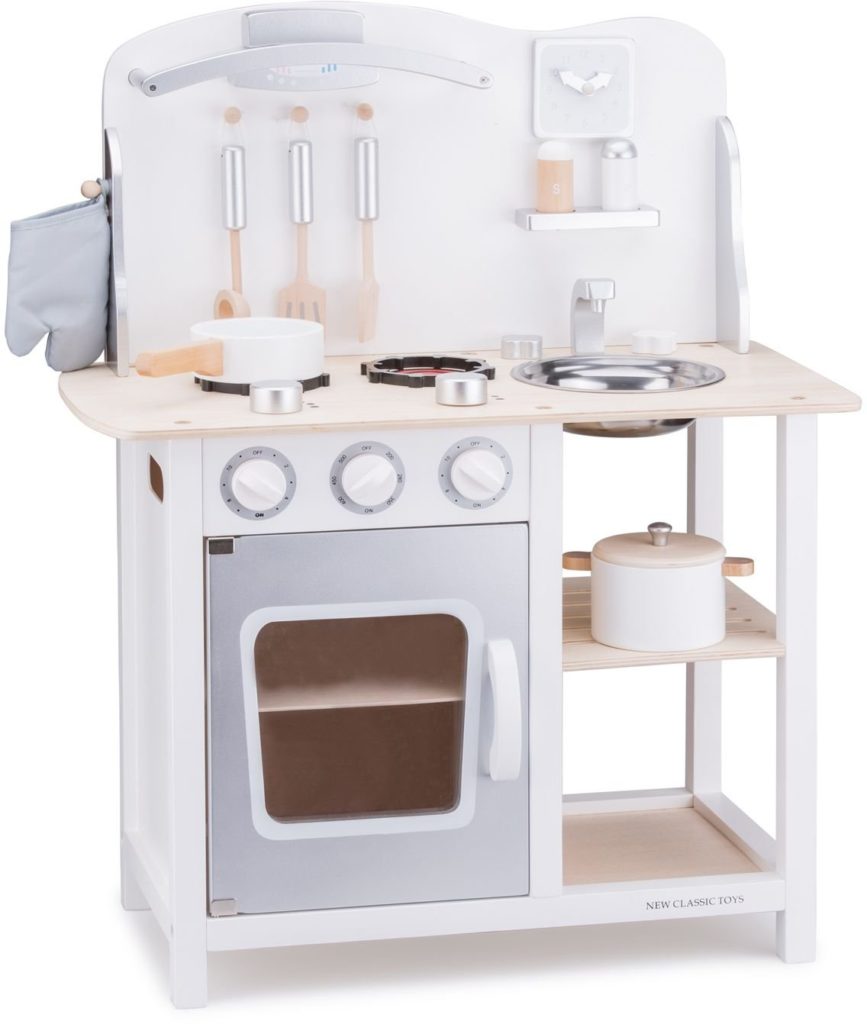 A nice compact kitchen with all the necessary accessories.
Features a worktop with 2 hobs, an extractor hood, an oven, 2 storage shelves, a sink and 2 taps.
Pots, pans, chopping sets and kitchenettes are a must for little kitchen princes and princesses.
A wide range of accessories are available for the little chefs to prepare delicious meals: 1 saucepan, 1 stewpot, 3 spatulas and a potholder, salt, pepper and even a clock to monitor the cooking process. The buttons of the cooking plates are sounded for even more realism. Worktop height 46 cm. This item is part of the New Classic Toys "Bon Appetit" collection. Cut, cook, bake and eat!

---
Leomark wooden children's kitchen
Leomark, a Polish brand, also offers nice wooden kitchen models for children, including a vintage model.
From 50€ – Read more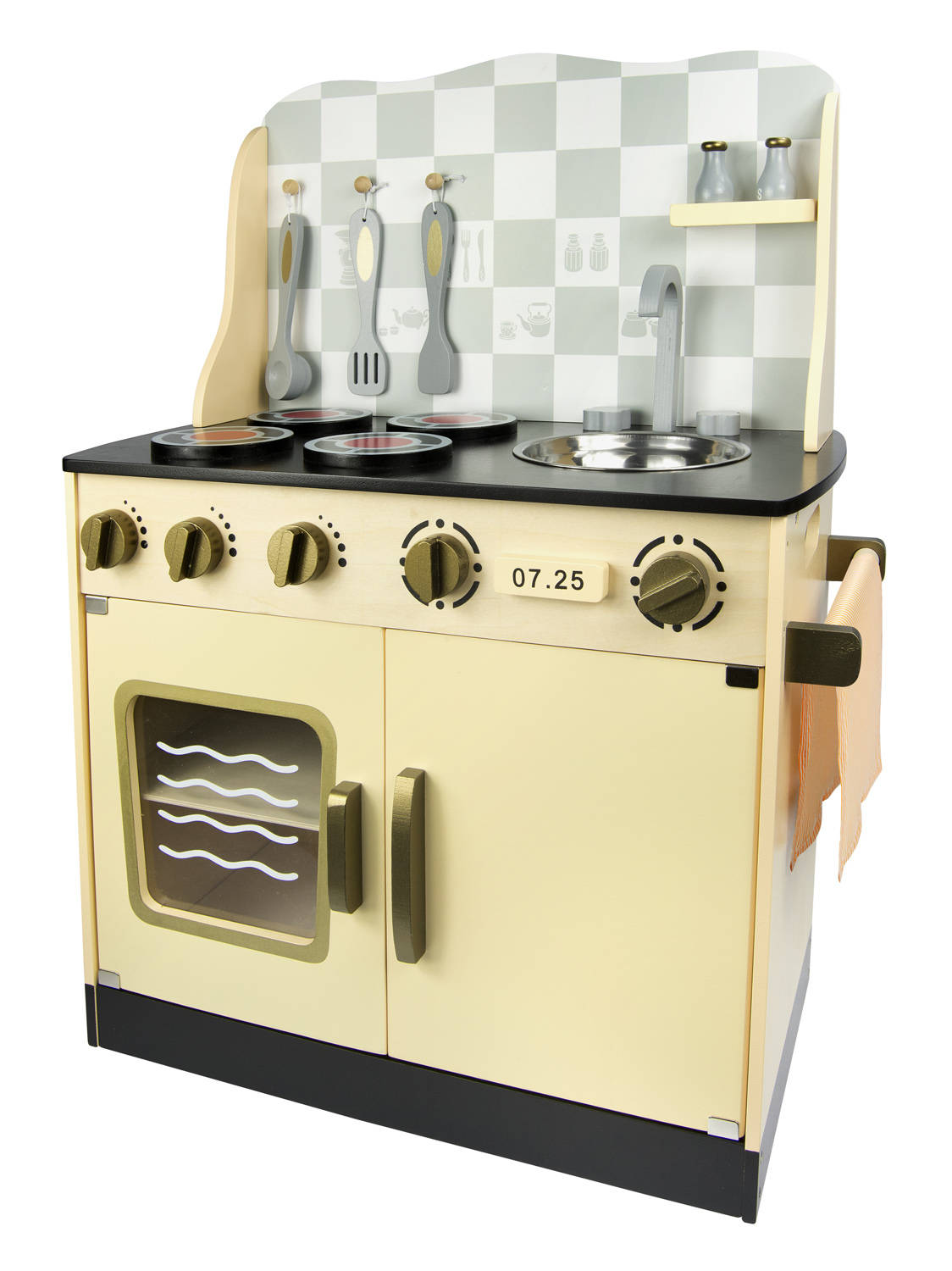 ---
Smoby kitchens
Smoby has teamed up with Tefal to offer new, fairly modern models. Some models are adjustable in height, which makes these toys evolutive. This means that your child can use this toy from the age of 3 to about 8 years old.
The prices of Smoby kitchens are relatively affordable. The first price is around 40€. A more complete model will require a budget of 100€.
Finally, Smoby kitchens are made in France in the Jura region
This more advanced model offers light and sound effects.
---
Toy Van wooden kitchen for children
Le Toy Van is an English brand that manufactures small and large children's kitchen models.
I really like the vintage style of their kitchens. Noah has the little wooden food processor.
From 100€ – Read more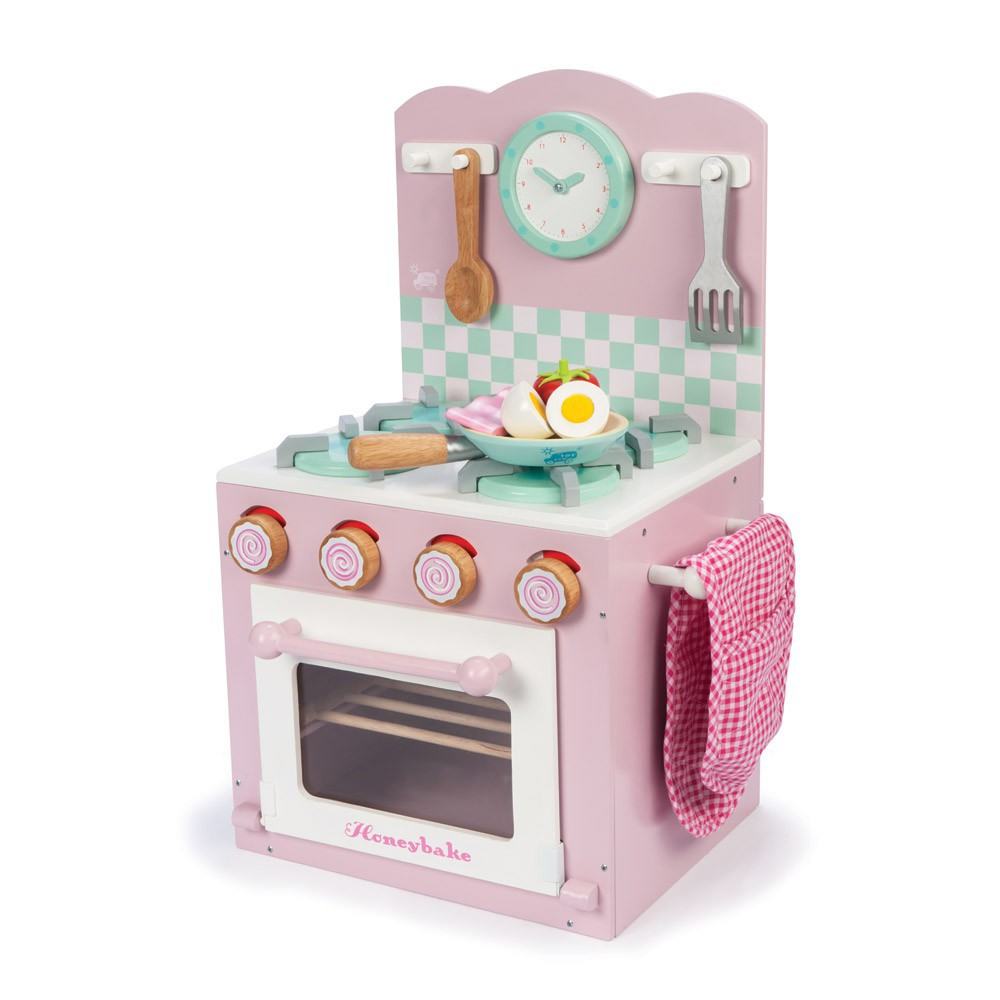 A vintage set of a rustic painted wood kitchen.
It includes a window with gingham curtains illuminating a sink and a 3-stage oven with a glass (plastic) door so you can check on the cooking!
There is also an electric hob with turning knobs and a wall mounted shelf and small storage cupboard under the sink.
It is decorated in neutral colours for all the children.
This kitchen encourages creativity and imaginative social role-play.



---
Best selling children's cooker
Did you fall for a particular model? Personally, I have a soft spot for the first 4 kitchenettes ;)